CM 6660F DM 6660FChairman and Delegate Microphoneunits with
• Fixed gooseneckmicrophone
• 5 button voting
• Chipcard
• Channel Selector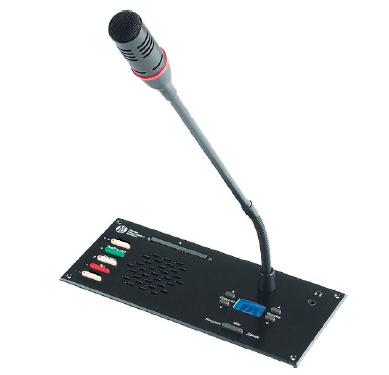 The CM/DM 6660F are fully digital microcomputer controlled conferenceunits with loudspeaker and illuminated microphone mounted on a semi gooseneck arm. The units support 5 buttons voting facility and a chip cardreader for identifying the user for thesystem.
The units are designed for flushmounting in tables.
The loudspeaker is automatically switched off when the microphone is activated.
The CM/DM 6660F units offer full compatibility with the DCS 6000 Digital Conference System with the CU 6010, Central Unit & EX 6010,Extension Unit.
The CM/DM 6660F features:
• Illuminated red ring on microphonehead for easy identification of speaker.
Clearly visible even in broadcast lighting
• Double rubber-suspended, lownoise electret microphone
• High quality speaker
• One built-in channel selector with32 languages/channels
• Volume control and one LCD for displaying of language/channel numbers or volume
• 5 buttons for voting
• Chip card reader for user identification
• Digital Audio Transmission
• Single cable "Loop Through"
• Free cable topology w. repeater
• 2 pieces DCS-LAN - Standard CAT5 connections for STP/FTP cable
• Unique ID no. identification during system initialization
• On/Off push button to activate/deactivate the microphone
• "Request" LED indicator for microphone in request queue.
• "Speak" LED indicator for microphone On
Additional for CM 6660F:
• Microphone On/Off push button with chairman priority (chairmanoverrides delegates)
• "Delegate Off" push button for switching off all active delegate microphones
• "Delegate Off" LED indicator for all active delegate microphones off
Microphone:
Type: Electret Cardioid
Frequency Range: 100 Hz - 15 kHz
Sensitivity: -22 dBv/PaMax.
SPL: 125 dB (3% THD)
Equivalent Noise: App. 20 dB
SPLFront/Back Ratio: >20 dB (1 kHz)
Loudspeaker:
Weight: 134 g
Frequency Range: 150 Hz - 15 kHz
Power maximum: 3 W RMS
Channel Selector:
Headphone connection:
1 x 3,5 mm jack female mono/stereosocket for analogue output of all 32languages/channels
Frequency response: 100-14 kHz
Displays: 1 x back lit LCD,3 characters
Dimensions:
(W x H x D) 235 x 90 x 53 mmw/o mic. arm
Length mic. arm: 40 cm
Total weight: 0,9 kg
Power Consumption:
3,8 W typical
Colour:
Black anodised aluminium front plate