LBB 9600/20 Condenser Handheld Microphone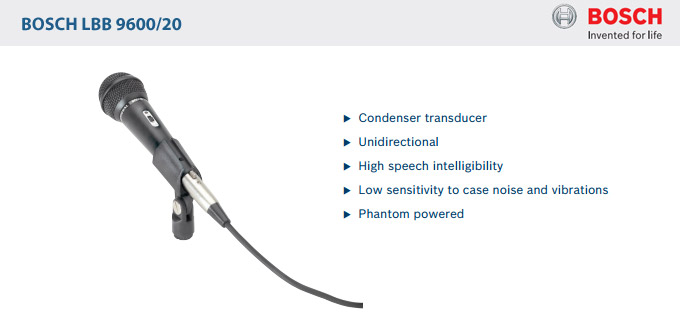 Features
▶ Condenser transducer
▶ Unidirectional
▶ High speech intelligibility
▶ Low sensitivity to case noise and vibrations
▶ Phantom powered
▶ Rugged construction
▶ Modern non-reflecting matt black finish
This condenser microphone is based on an electric transducer element in a sturdy housing with shield ingagainst wind and wind bursts (pops). It is intended for public address and sound reinforcement applications, suchas in churches, theaters, and conference centers.
Functions
The handheld LBB 9600/20 is an excellent microphone with almost frequency independent, unidirectional directivity.Its low equivalent input noise level and insensitivity to stray electrostatic and electromagnetic fields keep the audio signal free from spurious noise.
The microphone has an on/off slide-switch and a 3‑pin,lockable XLR plug. It uses a phantom power supply, which is available on all microphone inputs on Bosch public address amplifiers.
It comes with a push-on clip with a Whitworth-threaded screw fitting, and a multi-thread adaptor (3/8", ½", and5/8") for mounting. The supplied 7 m (23 ft) connection cable has 3‑pin, lockable male and female XLR connectors.